Revamp Your Deck for Outdoor Living
In the summer, your deck is going to be doing double duty. It will be a space for lounging time and a place to host great barbecues and get-togethers. Emerge2 has curated a list of some interesting, yet easy things that can be done to spruce up your deck and surrounding area. Make your deck more than just a place to stand on with these cool ideas:
Replace Boards and Railings
If your deck is looking dull and drab, or you're simply looking for a change of style, you don't need to tear the entire thing down and start over. You can change styles, the type of wood, or the stain on your deck by pulling off the boards and installing new deck boards on top of the existing studs. This will give your deck an instantaneous facelift.
Picking a different type of wood will add a new look and style to your deck. You can change the direction of wood on certain sections so they line up with each other in a more aesthetically pleasing way. If you don't want to change the type of wood, replace it with the same type but use a different stain. You can stain over existing wood, but for the best look, use new boards.
When you're pulling up your deck boards, you will be taking off the railings as well. Use this as an opportunity to modernize the tired, blocky wooden railings that have been there for years. There are many different options, including metal and glass, that can totally change the look of your space.
Paint a Door or Wall
If you have a non-sliding door out to your deck, or a blank wall that's begging for some color, change-up those areas and enhance the walls around your deck. By grabbing some paint and adding some color, a space can go from boring to breathtaking instantly.
If you have a regular swinging door out to your deck, you have endless possibilities of colors to choose from. Maybe you want to paint it a bright blue, matching your umbrella or cushions to stand out against the solid white of the exterior wall. You can also update the hardware to match other accessories around your outside area.
If you have a bare wall next to your deck, you have a blank canvas to be creative. By painting a wall with bright newcolors, or refreshing the existing color, you're sprucing up your deck area in a big way – the easy way.
Light It Up
Lighting can change the entire look and feel of your deck – especially at night. There are many creative and dramatic ways to use outdoor lighting to beautify your outdoor living space.
String Lighting
Connect multiple string lights together to create a warm, fairy garden atmosphere. There are many different types of string lights to choose from – the design possibilities are endless. String lights can also be added under stairs and decks for additional lighting.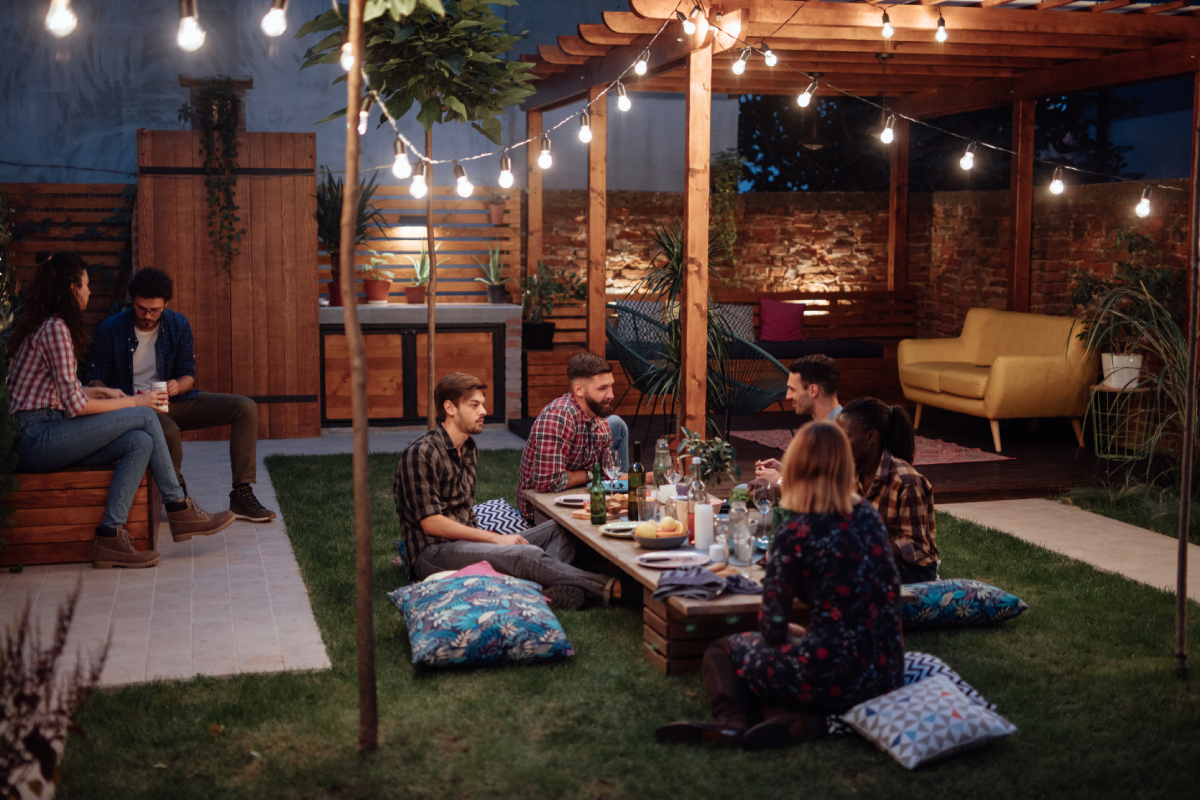 Post Caps
When replacing your posts, why not add some lighting? Most post cap lights are solar powered, and not only add a warm touch to your deck, but also provide guided lighting for stairs and railings.
One of the latest ideas for exterior lighting is to make them all "smart" lights. When you're carrying a big platter of delicious food outside, don't risk dropping it! Control your outside lights with your voice and even set your new smart lights on a schedule to come on once it gets dark.
For the Foodies
Wood-fired pizza on your own deck almost sounds too good to be true, right? But for an adventurous DIYer, it's not that crazy of an idea! Outdoor pizza ovens are small and cook a delicious pizza fast without ever having to go inside. There are many online guides for different DIY methods, most of which allow you to build your own on the cheap, using bricks, cement and your own tools. Be sure to set it up in a safe area and you'll be baking mouth-watering, homemade wood-fire pizza outside.
Having your own backyard fire keeps the fun going from day to evening while adding beauty and ambiance to your outdoor design. If you want to add a fire feature, there are many options to choose from including a traditional wood-burning fire pit, a cozy gas fire table or a table-top gel-burning fire pit. Add some chairs and make it into a s'mores station for a night under the stars.
If you have the room and some time, you can even build your own outdoor kitchen into your deck, and you'll never want to cook inside again. It takes some careful planning, especially working with gas appliances, electricity and water, but the customization options are endless and your outdoor kitchen can be as compact or extravagant as you'd like it to be.
The nice thing about making changes to your outdoor space is that you can go from a project as small as painting a door to making your deck into a new room of your house. Whatever your vision is, you'll love spending time in your revamped and refreshed space.
If you have any questions or need more information, visit Emerge2. Our team is always available to help in any way we can.