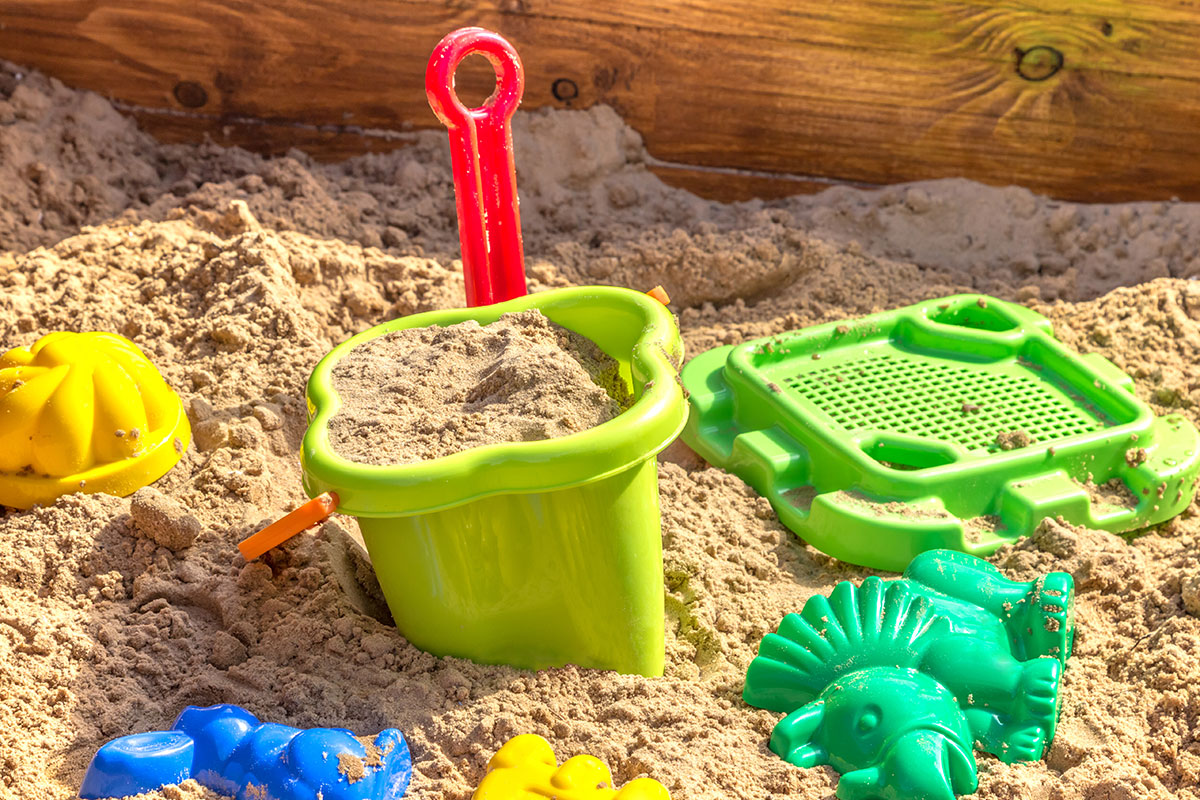 DIY Sandbox or Rock Pit
Make your backyard a happening place for your kids with an affordable DIY sandbox or rock pit. At Emerge2, we believe that it's fun and a great way for them to experiment and be creative while developing their social, cognitive and fine motor skills.
All you need are a few basic materials and tools, with many easy do-it-yourself design plans online. Your kids can help you build it for a fun family project.
Sandbox or rock pit?
Why not make both?
You can create your own natural rock sanctuary with sand, river stones and pea gravel in a shady corner of your backyard, or fill a sandbox with sand only or a combination of sand and pea gravel.
Location location location!
Choose a shady spot for your sandbox or rock pit, preferably where you can see it from your deck or window. If you don't have any large trees or shady spots, you can always place a canopy or umbrella over it to prevent your kids from getting overheated or sunburned.
If you have the space, you can create a natural, dry riverbed right in your garden, with a combination of sand, pebbles and rocks.
Just be sure to keep an eye on younger toddlers to prevent choking. Children under three years of age shouldn't play with pea gravel unless they are closely supervised.
Ready-made sandboxes
If you're short on time or would rather not build your own, you'll find many affordable sandboxes all ready for play, with little to no assembly required. All you need to do is set it up and add sand or stones. Constructed of sturdy plastic or wood such as cedar and fir, they come in a variety of shapes and sizes.
A sand table is a fun addition to smaller spaces like a deck or balcony.
Eco-friendly materials
To reduce your carbon footprint, you can choose from a variety of sustainable and recyclable wood, recycled wood and reclaimed plastic sandboxes.
Repurposing
It's fun to create an original sandbox or rock pit with found items such as an old row boat, or a wall of tree logs that double as benches, but always make sure that any materials you use are safe for your children. They need to be nontoxic, smooth, and free of splinters. Railroad ties and pressure treated wood are not recommended as they may be carcinogenic.
Wood pallets are ideal for making an original sandbox if you carefully sand down the wood to remove any chance of splinters, and remove nails. Using wood pallets will give them a new life and keep them out of the landfill.
How to build your own wooden sandbox
You'll need a few tools:
circular saw
hammer, shovel
spirit level
mallet
framing square
The only materials you'll need are wood, screws, landscape fabric and a tarp to cover the sandbox. And, of course, you'll need some natural sand! The amount of sand you need will depend on the size of the sandbox. Smaller sandboxes need about 100 to 200 lbs. and larger sandboxes will need up to 800 lbs.
Once you have found the best spot for your sandbox, and you know how big it needs to be, then you can order the necessary supplies.
Begin by measuring the lumber, then cut it to make the frame of your sandbox. Position the wood on the ground where you want your sandbox to be, in the shape you have planned – usually a square or rectangle. Use the framing square to make perfect corners.
Use a spade to cut into the ground along the inside and outside edges of the wood frame.
Now for the fun part! If your kids are big enough to help, they can dig out the earth inside the frame with shovels, about seven inches deep. Check that the dug-out ground inside the frame is level, and adjust as needed.
Build the sides of the sandbox by fastening one layer of wood on top of the other. Hammer the first layer of wood lightly into the ground with the mallet, making sure it is level. Then secure the corners with screws on each level of wood.
Position the landscape fabric on the ground inside the frame, and up the interior sides of the sandbox walls. Fasten each corner with screws.
Add natural sand, river rock or pea gravel and start playing! Build a cover or secure a tarp over the sandbox when it's not being used.
Safer sand
There are many safer sands on the market made especially for children to use in sandboxes. At the top of the list are natural beach sand, river sand, and sand that is clean, nontoxic, and does not contain asbestos, crystalline silica dust, and lead. Do not use construction grade sand, which may contain crushed crystalline silica and can cause breathing and other health problems.
Kinetic sand
For something more exciting, try colorful kinetic sand so that your kids can squish it into shapes.
Pea gravel
Pea gravel is fun to play with, and with close supervision, is a safe option for younger children. It is not as likely to attract insects or animals, and is less prone to bacterial growth.
River rock
Larger than pea gravel, smooth river rock is a great addition to your rock pit. Kids love rearranging them, and transporting them in toy trucks.
Additional Information
Advantages of a wooden sandbox
A safe, fun and natural place for kids to play outdoors
Affordable to buy or build yourself
Can be recycled
Can be repurposed when no longer needed as a raised flower bed
Important to know about wooden sandboxes
Take care to prevent injury from splinters
Regularly check and maintain your sandbox for safety
Less portable than a plastic sandbox
Advantages of a plastic sandbox
Lightweight
Easy to move
Easy to wipe clean
Many are more affordable than wooden sandboxes
Come in a variety of kid-pleasing shapes and colors
Important to know about plastic sandboxes
Can get hot to the touch
Tend to fade over time
May not be recyclable
Cover it up!
Cover your sandbox when your children aren't using it to keep out rain, insects, cats and other animals.
If it does get wet, let the sand dry out before covering it to prevent growth of bacteria.
Use a base material such as landscape fabric that allows rainwater to drain so you don't end up with a breeding pond for mosquitoes.
Maintaining your sandbox or rock pit
It's healthy for kids to play outside in the backyard and get close to nature, but there are some things you can do to prevent them from becoming ill from playing in the sandbox or rock pit.
Check the sand and rocks regularly to make sure they are clean and that animals are not using it as a litter box
Your children should wash their hands and feet or have a bath after playing in the sandbox
Clean out the old sand and add fresh sand every season or as needed
Whether you're a kid or a kid at heart, it's always fun making sand castles and playing with pebbles and rocks.
If you need more information or have questions, visit Emerge2. Our team is always ready to help you with what you need. We're here to assist you in any way we can.