Three Ways to Achieve That Distressed Wood Look
If you love the look of reclaimed wood, then you probably already know that this material can be used for just about any project around the house. From rustic shelving to hand-hewn floors to elegant furniture, this time-worn element brings class and charm to every space. The problem might be that authentic reclaimed, distressed-looking lumber can be hard to find — and when you are able to source a supplier, it can be pretty expensive. Emerge2 can help!
The good news is you can use new materials and apply surface distressing techniques to turn new wood into distressed lumber — material that looks like it's centuries old. Here are three do-it-yourself methods to achieve that perfect distressed wood look in just a weekend.
Use Stain to Create a Distressed Wood Look
A great way to introduce yourself to distressed finishing is to use a store-bought wood stain. To achieve your look, you'll need to first test out your base stain — the primary color for your soon-to-be-distressed wood — and see how it works with other stains and with the weathering techniques. Once you've tested out the stain, it's time to get started.
Materials Needed:
Wood stain
Rags
Paintbrush
Paste wax or polyurethane
Plastic gloves
Sandpaper
Water
First, take your new wood and start sanding. This will get rid of any coating and create a nice, smooth finish. Then brush water onto the wood, and let it dry for a few seconds before applying the stain. Unless you are using a stain specifically designed to create a weathered look, you'll need this water coat to help prevent too much of the stain from being absorbed into the wood — as this seals the wood and keeps it looking fresh and polished. Wipe off any excess stain with a rag. Repeat this process until the wood has a rough, weathered look that appeals to you. Then finish with paste wax or polyurethane, to trap in that rustic look.
Use Pantry Products to Create a Wood Distressed Look
One of the easiest ways to age wood and create that sought-after distressed look is to use products you probably already have in your pantry, such as white vinegar and tea.
Materials Needed:
White vinegar
Steel wool
Glass jars
Paintbrush
Black tea (such as Orange Pekoe or English Breakfast)
Hot water
Sandpaper
Paste wax or polyurethane
Plastic gloves

First, pour vinegar into a glass jar until it's half full. Shred the steel wool and add it to the jar. Let the steel wool and vinegar sit in the jar, uncovered, for at least 24 hours — longer if you want a darker distressed wood look — just don't allow rust to form on the steel wool or you'll end up with an orange hue to your stain.
Now, sand the wood until it's smooth. Then apply the steel wool mixture to the wood with a paintbrush. As this dries, mix hot water and the tea in another glass jar. Once mixed, brush this tea mixture onto the wood. The tannins in the tea will mix with the steel wool and vinegar mixture to create a dark, rich and weathered-looking finish. Allow the tea mixture to dry to see how dark the finish is and, if you want it darker, apply another tea coat. Don't rush this process, as the aging process actually continues as the tea stain dries.
Once you are happy with the look, it's time to apply either the paste wax or polyurethane.
Using Mechanical Techniques to Create the Distressed Wood Look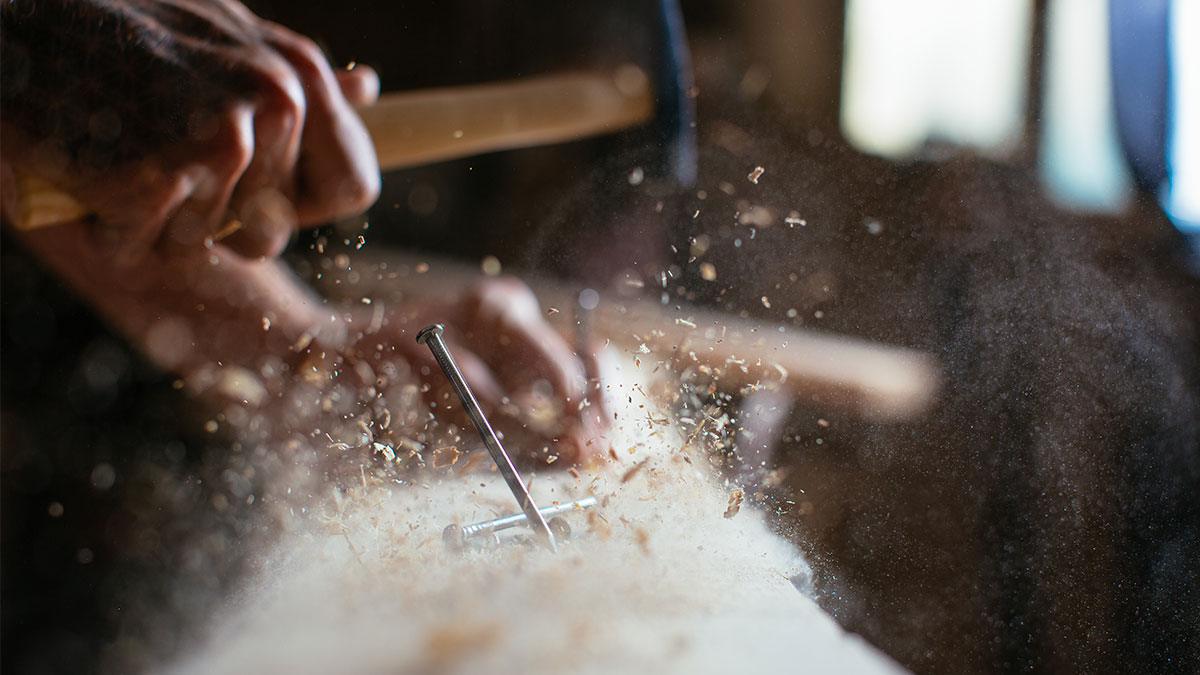 Using Mechanical Techniques to Create the Distressed Wood Look
This process helps to create an aged piece of wood by adding those rustic and weathered dents and dings. By completing this technique before the tea and vinegar method or the store-bought stain method, you can create a truly exceptional distressed wood piece for your home.
Materials Needed:
Metal chain
Hammer
Nails
Awl
Drill
Wire brush attachment
Sandpaper
The first step is to attack the wood. Use all your tools to slice, hack, chop and poke your wood. Hit it with a hammer or the metal chain, as this will create pockmarks and little divots. Now press nail heads or the side of an awl into the wood to leave aged tool marks, or use the sharp ends to create timeless scratches and cuts in the wood. You can even get creative and use an old sock filled with screws or nails to hit the wood and create unique damage patterns. Now, use the drill and a wire brush attachment and start grinding the wood. The aim is to bring out the texture and glean of the wood's natural grain. Repeat until you achieve a look you like and then lightly sand the entire surface.
Finally, add those trademark 'insect' holes by driving an awl into the wood in random patterns. If you don't have an awl, then use a two-by-four with drills screwed into it to create those small holes.
Once finished, don't forget to pair up your distressed wood look with some antique-looking hardware. Find hand-hewn pieces or hand-forged nails either online or at garage sales. If you can't find the real thing, consider searching out antique-looking hardware that allows you to keep the hard-worn look of your newly created distressed wood piece.
If you have any questions or need more information, feel free to visit Emerge2 for assistance. We would be happy to help you in any way we can.