Choosing the Right Front Door for Your Home
How your property looks from the outside is important because it affects the curb appeal and value of your property. 57% of potential home buyers "think less" of a home with unkempt landscaping or poor curb appeal, according to a recent survey by House Method.
Emerge2 believes there are many ways to improve your home's curb appeal; surprisingly, upgrading your front door is one of the best and most cost-effective options. According to Remodeling Magazine, upgrading your front door can offer anywhere from 69% to 75% return on investment. (So, if it costs you $1,000 to replace the door, you can expect that upgrade to add $690 to $750 to the value of your home. Additional curb appeal upgrades will increase your home's value even more.)
Why is your front door so integral to your home's visual appearance? It's the first entryway that most people see and how it looks can affect their first impression of your home.
If you're thinking about listing your home for sale in the near future, or if you just want to enhance your home's current look and feel, here's what you need to know about residential front doors to make the best investment for your home.
Three Common Front Door Styles
If you want to upgrade your front door to a brand new one, it's essential to know what front door types are available, and how these types differ from one another. This information will help you narrow down your options, so you can have the type that suits your needs and budget.
Some of the most common front door types are:
1. Contemporary
Also known as modern design, contemporary types of front doors have become more popular among residential homes today. This type of front door is characterized by its clean and simple appearance and often accentuated with glass and steel.
However, installing contemporary front doors isn't ideal if you own antique or old houses. Installing a modern door on a property that looks old can make your exteriors look cluttered and mismatched.
2. Shaker
Homeowners have used shaker-style front doors for years, but its flat, square and simple design allows it to look more modern. Aside from being a timeless design, shaker front doors also require less maintenance and appeal to a wide range of homebuyers. These types of front doors can also be painted or stained to make them look more customized.
However, because shaker front doors are so minimalistic, this type might not be ideal for all home styles. Shaker front doors will look boring and bland when installed in homes with elaborate moldings and columns.
3. French or Double Doors
If you want to take your exteriors up a notch, install French or double doors. French front doors are double-hinged and can be opened inwards or outwards, and provide full access to the width of its opening. French front doors are known for their divided glass panes installed in wooden frames.
Using French front doors is beneficial because it makes your home look and feel bigger. These types of doors provide more natural light indoors and are customizable based on the theme of your home.
French front doors might be unique, but this type isn't perfect. Just like the first two types, French front doors also have some drawbacks, like requiring more space from your home and more money from your pocket. French front doors are also not energy-efficient because its structure allows air to enter your home and makes your interiors susceptible to water leaks.
Three Common Front Door Materials
When choosing which front door to install in your home, it's not enough to pay attention only to the type; you should also consider materials as this can affect its lifespan. Installing a front door made from materials inappropriate to the weather conditions in your area can shorten its lifespan, requiring you to spend more money on repairs or replacements.
To ensure that you'll be able to make the most out of your front door, take a look at these materials and weigh the pros and cons of each:
1. Wood
Wood is one of the most common materials used in front doors. Front doors made from wood look natural because of its grain, and can add character and beauty to any type of home. In addition, wood is also a versatile material because it comes in several varieties such as bamboo, teak, mahogany, cedar and pine.
Front doors made from wood are often made using solid engineered wood core, which means that using this material will provide better insulation and durability. These characteristics will increase your home's security and energy savings, as well as reduce outside noise.
However, front doors made from wood have one major drawback – this material requires regular care and maintenance to ensure that it performs at its peak. For starters, you need to make sure that your wooden front door is immediately sealed after the installation, as skipping this step will make the material prone to moisture and damage.
2. Fiberglass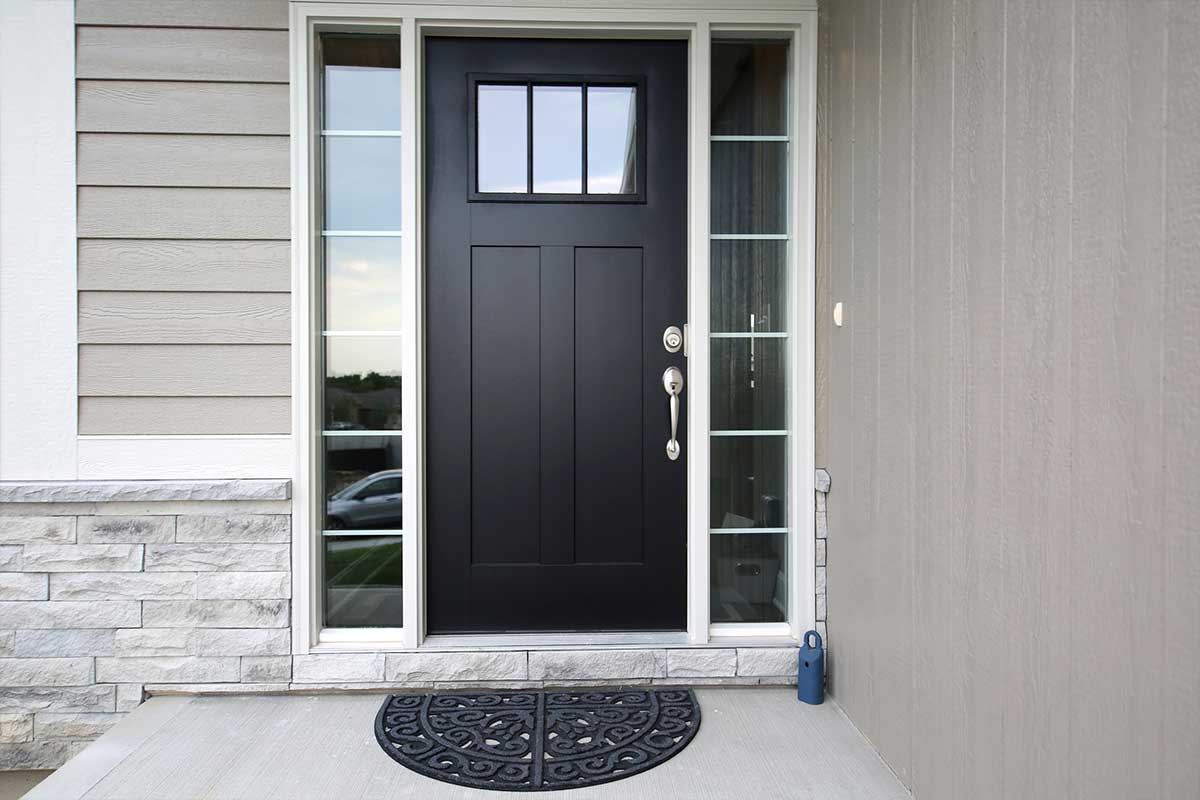 Gone were the days when homeowners could choose only several types of wood as a material for their front doors. Today, you can choose to use a newer material for your front door, like fiberglass.
Although uncommon to some, front doors made from fiberglass are actually beneficial as this material is durable since it doesn't rot, rust or warp, and can last for decades. Fiberglass also requires less maintenance because it doesn't need regular painting or staining. Additionally, this material can boost the energy efficiency of your home, resulting in lower energy bills.
Having a front door made from fiberglass installed in your home is a great investment, but you also have to consider its cons, namely its price. Fiberglassis an expensive material, which means that you'll have to come up with a bigger budget for its purchase and installation.
3. Steel
If you want to upgrade your home's exteriors without breaking the bank, installing a front door made from steel is a great idea. Steel is one of the most durable materials used for front doors today, and using it in your home will allow you to get the best "bang for your buck."
Aside from being a cost-effective investment, installing steel front doors can also boost your home's energy efficiency because this material can retain the temperature inside the house. Front doors made from steel also provide optimal security and require less maintenance than other materials.
However, steel isn't a flawless material, and using it for your front door also comes with some disadvantages. Because of its natural components, front doors made from steel are prone to denting and rusting. The more exposed steel is to oxygen and moisture, the faster it dents and rusts.
Work With Pros or Do-It-Yourself?
Now that you know some of the more common styles and materials used in front doors, it's a good idea to start determining whether you'd like to hire a pro or tackle this job yourself. You'll need to add about $1,000 or more on top of the cost of the door for professional installation. If you do the job yourself, you can save on cost; however, be mindful that there are many steps to getting an external door hung properly and sealed correctly; if you need guidance, visit Emerge2 and talk to our hardware specialist.
If you have any questions or need more information, feel free to visit Emerge2 for assistance. We would be happy to help you in any way we can.